ROMANTIC GETAWAY
As an 'Adults Only' lakefront resort, Footprints understands the need for 'adult time' and does not allow children or teens at our romantic boutique resort, allowing for couples to enjoy the quiet, pristine nature and our upscale amenities in peace.
Footprints Resort is tucked away on its own private lake where you can take the time to reconnect as a couple, without the normal distractions of life. Step away from technology and into a slower pace while at Footprints. Breathe new life into your relationship, reconnecting with the one you love. You will find plenty of cozy, romantic spots and seating areas scattered around our resort, offering you plenty of opportunity to enjoy the company of other guests or steal away for some 1-on-1 alone time.
Hold hands as you hike the trails, float on the lake or soak up the sun on our private beach or gaze at the stars and cuddle by the campfire by moonlight. There are plenty of inclusive amenities that are yours to discover while at Footprints or check out nearby attractions for day excursions.
Create your own delicious meals in our self-catering kitchen while socializing with other guests, or enjoy the short, scenic drive into town where you will find many dining options.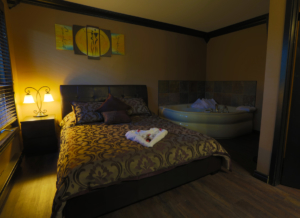 Whether you are celebrating a milestone, going on a honeymoon or a scheduled romantic vacation or simply reconnecting with your loved one, book a room or cabin and shut the world away. Have a look at our accommodations to see what we offer and what is right for you.
Perhaps our specialty Jacuzzi Room will help strike the mood, with a Jacuzzi tub, robes, fireplace, and complimentary chocolates & champagne awaiting your arrival.
For our more budget minded guests or those who enjoy camping in the great outdoors, camping is also an option. Have a look around our website for more information on accommodations, camping, hot deals, location, and the FAQ page. Book your next romantic getaway online today!