OUTDOOR ADVENTURE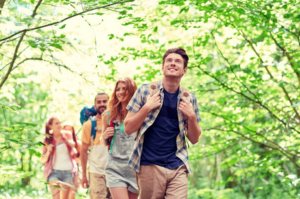 At Footprints Resort, we've got you covered! At the resort, there is plenty to do: hiking, bicycling, long walks on nearby trails, paddling around our private lake in non-motorized boats, and plenty of games to keep the blood pumping. Roll out your mat near the lake, on the beach or under a tree for yoga, stretching, meditation or whatever mat work you prefer.
Off resort, the outdoor adventures are endless! Choose from rock hounding, hiking trails, ATV and boat rentals, horseback riding, exploring other nearby lakes and beaches, fishing and geocaching. Algonquin Park is just a short, scenic drive away, and there you can find all kinds of outdoor adventures! There are even ghost towns nearby to visit.
And when you're tired of all the outdoors and fresh air, check out Bancroft or other nearby towns. Grab a meal, try a local beer or wine, tour mineral mines, unique shopping experiences in quaint shops, take a pottery class or check out a museum or art gallery. The Village Playhouse offers theater and musical presentations regularly. Flea markets, garage sales and antiques are easy to find here as well.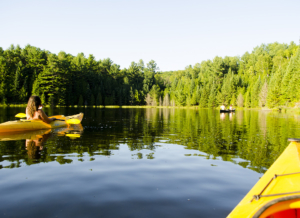 In the summer months, there is a free concert in the park in Bancroft on Wed. evenings, and a farmers markets on Fridays. The August long weekend is home to Gemboree, a rockhounding festival that runs for 4 days and offers mineral collecting tours every day, workshops and shopping opportunities. Every fall, there are 2 weekends that host 'Studio Tours' of local artisans – enjoy a country drive, and pick up a treasure or two along the way.
Perhaps you'd simply like a quiet location to set up your tent and wile away the days reading a good book: at Footprints we can help with that too! While not exactly a campground, we can accommodate a few tents and will do everything we can to make your stay as relaxing and romantic as we can.