CORPORATE RETREATS & TEAM BUILDING
Footprints Resort is an inviting destination with a unique experience for your Corporate Retreat or business meeting! Whether you are planning a new product launch, team building with your executive team or rewarding your staff for a successful year, Footprints is the perfect location for a one-of-a-kind private adult retreat for your small business or corporate managerial team.
Footprints is a unique resort that allows you to take over the entire property, allowing your meetings and social schedule to be uninterrupted by other guests. No outside distractions like traffic or children will bother you here. Concentrate on the business at hand or just relax and play!
With 9 rooms, 7 villas, and 7 cabins available, we can potentially accommodate up to 56 people and the communal self-catering kitchen and Lounge, is the perfect central meeting place. Smaller Break Out meeting spaces can be found around the resort as well. And when you and your team need a break, there is plenty to do to keep your team energized and focused:
Plenty of water sports on our private lake: canoes, kayaks, stand-up paddle boards, paddle boat, diving platform and water trampoline
Private sandy beach with plenty of lounge chairs
Hot tub on the deck to remove stress and enjoy a cold beverage
Cycling and hiking the trails
Nightly campfires with plenty of firewood supplied
2 beautiful golf courses nearby
ATV, horseback riding, fishing and boating excursions
White-water rafting… 2 hrs away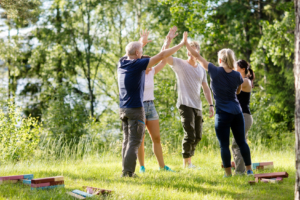 Nearby Bancroft boasts everything you might need: restaurants, golf courses, liquor, beer and grocery stores and additional accommodations, if your team is larger than our accommodations allow. We'd be happy to supply a list of reputable caterer/food services if desired or work with you to provide the perfect balance for your business retreat.
Located between Ottawa and Toronto, Footprints is a pleasant 2 ½ drive away from Ontario's two major cities and provides a chance to breathe fresh air, step away from distractions and concentrate on the business at hand.
We hope you will find Footprints waterfront resort to be just the right fit for your business needs! Have a look around our website for more information on accommodations, amenities, location, and the FAQ page for any other questions you may have! We will be proud to have your business at Footprints Resort!