ADULT FAMILY VACATION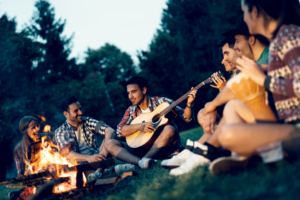 It's time to gather your adult family together now that they have grown and moved away to start their own lives. Reconnect with your grown children and their new partners and grow as a family. Footprints is an excellent resort to do just that! As we are 'adults only', we can offer a peaceful vacation in a pristine and all natural setting with no children to distract from your time with your grown family.
Book enough rooms, cabins or villas to accommodate all the adults in your family and everything the resort has to offer is at your disposal: private beach with plenty of lounge chairs, non-motorized boats, bicycles, self-catering kitchen, communal lounge and Cabana bar, and even the Dome for use during inclement weather.
If you are itching for a road trip, there is plenty to do offsite as well: hiking, fishing, boat rentals, shopping, sightseeing, geocaching, ghost towns, rock hounding, and artists Studio Tours. You'll never get bored!
If this sounds like the vacation destination for you and your adult family get together, or simply a place to bring your parents for a weekend, please contact us! We'd be pleased to help make it memorable!